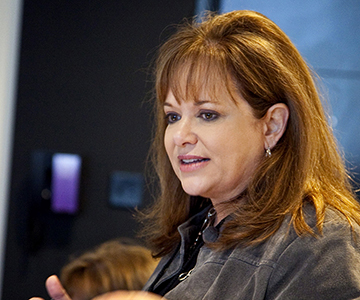 Jean Houston Shore works with organizations that want their people to work together better. Since 1994, she has served clients in many industries as a speaker, facilitator and management consultant.
Jean started her career as a CPA, passing the CPA exam in her first sitting. Later she moved into training and consulting and she achieved the designation Certified Speaking Professional (CSP) in 2001. After obtaining her MBA from Baylor University, Jean moved onto the National Board of the National Speakers Association where she chaired the Audit Committee. Some of Jean's awards include Discussion Leader of the Year (VA Society of CPAs), the Kay Herman Legacy Award (NSA Georgia) and the President's Award (National Speakers Association).
As a trainer and facilitator, Jean has led training classes and problem solving events for large companies like USAA, Southern Company, DTE Energy, National Grid, Turner Broadcasting, ANSYS, POOLCORP and AT&T. For Southern Company and subsidiaries Georgia Power and Alabama Power, Jean designed and presented a two day interactive class to help non-financial managers gain the financial confidence they needed to excel. For DTE Energy and National Grid, Jean delivered Excidian's course, How A Utility Makes Money.
No matter what the intervention, Jean strives to make the learning experience interactive, relevant and engaging. Clients say Jean relates easily to people from diverse backgrounds and experience levels and she is known for her ability to ask insightful questions that get results.